OLD-About PaperShoot
Hi, I'm George. I was born into a traditional Taiwanese family with six children and being the youngest, I didn't grow up in a particularly wealthy environment. At that time, only wealthy people could afford to buy cameras. I was often jealous looking at the people who had them because they were able to make their own album with all their memories while I couldn't. It has always been a lost part of my childhood as I have no pictures of my past.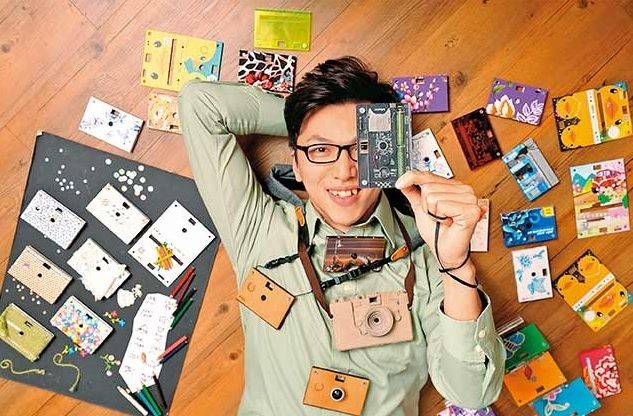 However, I always told myself that I will change the way things are and make it possible for everyone to have photographs of all their happy memories. Not only that, I also wanted to make it possible for someone like myself who has has a strong passion for photography, to become more and more involved as time goes on.
I have had dreams about photography ever since I was a little boy and paper has always had a fascination for me. Each winter and summer during vacations of elementary school, a family like mine with lots of children would immediately turn into a 24-hour family domestic OEM.  Back then, people used to shop at traditional markets and my family would use rough strawboard and paste to fold paper bags to hold eggs. In fact, it looked like a backwards chef's hat. Looking at every simple product that was made by my family and looking at the thick cocoon on my hands caused by cutting the paper gives me a familiar feeling that I grew up with, and takes me back to when I was with my family. 
I started a part-time job while in high school and worked the night shift in a paper printing company whilst I was at university. Thanks to my past work experience, I became more familiar with the central location of the paper industry in JungHe, where all kinds of paper companies and paper manufactures are based. After serving in the military, I became the only one in my class who entered into the electronics industry. I learned basic electronics from the beginning and I finally got promoted from the training department to a specialized department that deals with the image sensor chip. Every CMOS sensor that is sold is the heart of the camera and it also made me where I am today. 
I have never forgotten my childhood dream and have created "Paper Shoot", so that everyone can capture and keep their very own special memories. My first step to change the world is to create digital Paper Shoot cameras. A good camera must be able to capture all the happy moments in life. 
Personalized design makes your papershoot special, unique and original, and the editable and interchangeable casings available help you keep up with today's trends and fashions. Paper Shoot is easy, light and very thin which makes it easy for everyone to use and carry around. In my view the most importatnt parts of Paper Shoot comes in the form of its green credentials. It does this through several design features including the recycled paper pulp material used to make the casing, the non-toxic soy pigments for the design imagery and the Coreopsis seeds embedded within the paper that makes up the cases. The last feature (embedded seeds) allows the user to send the casing back to the earth in a very non-destructive manner, once the case has reached the end of its functional life. And from this creative piece of sustainable design the name 'Paper Shoot' was born.
Paper Shoot will continue to develop and surprise its customers through future products, features and designs. I will do my best to spread this new Taiwanese brand globally. This is a product for everybody, and has been designed to be globally accessible. We want the world to appreciate the forward thinking designs of Taiwanese engineers, designers and entrepreneurs, whilst being at the forefront of the technology market. This is a product to help protect our future.